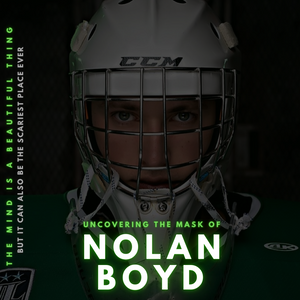 Uncovering the Mask
MAIN PHOTO: Nolan Boyd is speaking publicly about his battle with mental health. (Martine Caron photo)
(This story was originally scheduled to post in late August, however we agreed to delay it due to the impact of a young persons death in the community as a result of mental health.)
FALL RIVER: Nolan Boyd never imagined he would find himself in the situation he was.
Like most teen boys, the Fall River product, a goalie with the Grand Falls Rapids of the Maritime Junior A Hockey League (MHL) had a zest and love for the game of hockey.  But he feels his battle with depression and anxiety began in Grade 11, about three years ago.
"I wasn't having a good school year, academically, but I was having a really good hockey season so that's what kept me happy," said Boyd. "My whole head went to a different space, worrying about people, what they were saying, trying out for different hockey teams, concerned what people were thinking.
He said there were days he would come home from school or after a hockey practice and just lay down in his bedroom—in the upstairs of his family's home near Ash Lee Jefferson School—for hours upon hours.
"I was very moody," he said. "I could be the happiest guy one second and then a completely different person. That's never been like me.
"I'm older now and mature now. People kept telling me I needed to get help. I have a really good support group that care about me."
Boyd said he kept all his feelings inside, and that ended up hurting people he loved and pushed some away.
"My choice of words may not have been the best when talking to them," he said. "Now, I'm realizing the importance of talking about one's feelings, one's problems that happen in everyday lives. Just thinks that are so common, where your head is at.
"The mind is a beautiful thing, but it can also be the scariest place ever."
He said his sleep also was affected before he has learned to deal with his mental health.
When he would be home at night, that was a worrisome time.
"Nighttime is the most frightening thing for me," said Boyd. "That's when I have the free time to myself, I'm not keeping busy. My mind wanders to dark thinking especially being a hockey player and reading hockey forums and boards."
Boyd said he decided to open up about his mental health issue to show how much the mental side of the game is like and how much it can affect a player on and off the ice.
"It took me two or three years to finally go and talk to someone because I was so scared," he said. "I thought it was a boo ho type of thing, so I never took it seriously."
Advertisement:
In July, the feeling of depression really hit Boyd hard, so he knew there was something he had to get taken care of.
"I reached out and went to my family doctor, and he diagnosed me with anxiety and depression," said Boyd. "It was a shock to me because I had known there were points I felt down, but never really considered it severe enough to go get checked out."
Boyd said now it's time for players of any sport to open up. He said the pressure of hockey has played a role in impacting his mental health.
"I never really opened up to my family about it because I was always scared. I just didn't want to be a burden on them," he said. "My parents and two sisters have always been there for me, but this is my issue and I never wanted to put this on them."
He said reaching out for help he feels will benefit him, like it can others who are in a similar situation.
"I'm going to work hard to ensure I can make myself happy about myself, instead of relying on others to make me happy," said Boyd. "You can only do so many things until you crack."
He hit his breaking point and knew he needed help.
"People know me, I'm approachable, talkative, but I wasn't myself, in my heart I truly wasn't myself," he said. "I knew I had to address it."
Boyd said a person must find things that make the person happy, a hobby that can keep them busy during down times. Something that won't allow the mind to wander to places you don't want it to go.
"If you want to get through the toughest days, you have to have confidence in yourself. That you are going to make the days the best possible," he said. "You have to take it day by day. You never know what the world is going to offer you.
"It's important to find the thing that make you happy, keep you busy and keep you out of the darkness."
He knows the journey he's on won't be easy.
"I know it's not going to be sunshine and rainbows," Boyd said. "It's going to be tough. Once you start to learn how to deal with things, it will stick with you for the rest of your life."
It all comes down to self-care, Boyd said.
"Make yourself happy first," he said. "If you don't know how to make yourself happy first, then you're going to be stuck.
"If you talk to people that's the first step in getting the help you need. You can't keep people guessing."
---